Vivid Visions
August 2, 2012 to September 1, 2012
Featuring Arbito, Buff Monster, Grant Wiggins, Martin Ontiveros, Pinky, Oliver Hibert, Spencer Hibert
Opening Reception August 2nd 7 - 10 pm
Curated by Oliver Hibert and Molly Georgetta
Vivid Visions
Ingredients:
- 7 artists
- 5 lbs ultra-bright magic.
- 13 tablespoons of groovy juice.
- 4 1/2 cups of eerie.
- 21 teaspoons of hard edge-bold powder.
- 0 oz of rules, themes or apprehensions.
Directions:
Empty and stir all ingredients into Compound Gallery, let simmer for about a month. (After a short time, you may want to vent through the ears or lift off the top half of your skull- as your eyeballs may melt and overheat the brain). Serve with a tear and a smile- Enjoy!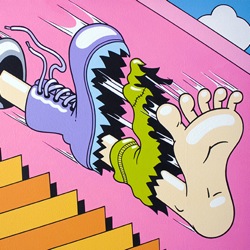 Arbito is an artist/illustrator/designer liv­ing in Seat­tle. Born and raised in Wash­ing­ton State, his work has been exhib­ited glob­ally from Spain to Eng­land, Aus­tralia to New york. Recognized by his west coast proto-hippie style paint­ings, drawings and sculptures.
Buff Monster lives in Hollywood and cites heavy metal music, ice cream and Japanese culture as major influences. The color pink, a symbol of confidence, individuality and happiness, is present in everything he creates. Buff Monster's creative endeavors began by putting up thousands of hand-silkscreened posters across Los Angeles and in far-away places. His frequent poster missions developed into a productive street art career, and he now works on fine art paintings, collectible toys and select design projects. He paints on wood, taking great care to create his images as flat as possible. His work has been shown in galleries worldwide, often accompanied by large installations. Buff Monster has released numerous signature vinyl toys through leading vinyl toy companies, and has many other projects in the works. His art has been published in a variety of magazines, websites, newspapers and books, including Juxtapoz, Paper, Nylon, Cool Hunting, Angeleno, The Los Angeles Times, LA Weekly, The New York Times, and many more. He was recently featured in Banksy's movie Exit Through the Gift Shop. And in January of this year he painted a mural on the exterior of The Standard Hotel in Downtown Los Angeles. Buff Monster works tirelessly day and night to spread happiness, joy and a love of pink.
Infused with hypersaturated color combinations, the paintings of Grant Wiggins represent an amalgam of graphic inspirations. His design-intensive "maximalist" paintings jam together bold lines, vivid color combinations, and complex patterns — tapping into the visual energy of mass-market design while circumventing the psychological warfare that underlies the motivations of the marketplace. Wiggins is the only artist in Arizona to show consecutively in the 2003, 2005, 2007, and 2009 editions of the Arizona Biennial, held at the Tucson Museum of Art. He also has exhibited his paintings twice at Phoenix Art Museum and in the inaugural TCA Biennial, at the Tempe Center for the Arts. Recent gallery experience includes shows with Soyal Gallery and Squeeze Gallery in Scottsdale, Arizona, as well as Thomas Hayes Gallery in Hollywood, California.
Martin Ontiveros is part Wizard, part Warrior, and part Werewolf. A Crazy-whisperer. Metalhead. An unstoppable force. He lives, works, conjures, battles, and transforms in Portland, OR
Oliver Hibert was born in Seattle, Washington in 1983. Self taught and determined, Hibert made his debut in galleries by the age of sixteen. Hibert's bright palette and magical scenes caught the attention of MTV for a music video at the age of eighteen. Shortly thereafter, came an impressive art show at the Phoenix Art Museum followed by consecutive biennial shows at the Tucson Museum of Contemporary Art in Arizona. Oliver Hibert has now shown his paintings, designs and illustrations in numerous retail stores, galleries and museums around the globe including – Los Angeles, New York, Hong Kong, London, Paris and Australia. Hibert has worked with such clients as MTV, Disney, Nike, Adidas, Diesel, Fender Musical Corp, The Flaming Lips, Pepsi, BBC, GQ Magazine, Time Out Magazine, Proctor&Gamble, Salomon Snowboards and Yellow Book. In 2008, Hibert's work for DesignersBlock at London's Design Week was short-listed and exhibited in the "Designs of the Year Show" at the London Design Museum. Currently, Oliver Hibert resides in Scottsdale, Arizona on his desert farm of cacti and albino peacocks. Oliver Hibert is represented internationally by Debut Art. www.oliverhibert.com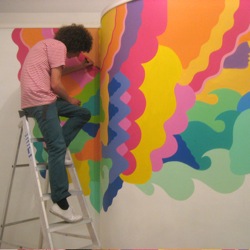 Pinkyvision. I make art about life. Technicolor interpretations of my experience. Explorations of the infinite particular and the iconographic past and present. This moment and how to celebrate it. I also create work for Flip skateboards, Altamont Apparel and Gnu Snowboards amongst others. Remember - Never Yawn.
Now, bold, bright, captivating and psychedelic, describes American artist, Spencer Hibert's style of artwork. Hibert was born in Seattle, Washington in 1980. Recognized for his innovative sculpture and striking paintings, the self taught artist has also designed for Faesthetic magazine, Ecko clothing, and Threadless. His paintings have been shown at galleries across the country, and in 2009 over a million of his Miigii characters hit vending machines world wide. His larger resin sculptures have been spotlighted in many shows and have been featured in many publications including 944 magazine and Phoenix New Times. In 2010 he was awarded with the first ever Visual Big Brains Award by the Phoenix New Times. Spencer Hibert currently resides in the Arizona desert where visionary mirages continue to appear and inspire him.
Artwork