Dangerous Curves
March 1, 2012 to April 1, 2012
Featuring Aaron Nagel, Dan Gluibizzi, David Bray, Berto Legendary, JesseHectic, Adam Garcia, Ripper1331, Alister Lee, and More
Opening Reception March1st 7pm to 10pm
Curated by Nathan Tabor
Born 1980 in San Francisco, California, Aaron Nagel began drawing as a child and gradually made his way to painting. Upon discovering oils in his early twenties, he became enamored with the medium and has been obsessed ever since. Although he has had no formal training, he continues to relentlessly pursue a mastery of figurative surrealism from his home in Oakland, CA. Nagels' work explores the potential to create a new sort of iconography for the non-believer, with subtle commentary on the trappings of organized religion and theism.
Adam R Garcia is The Pressure. Art Direction, Design, Illustration, Lettering, , The Dark Arts, Moebius Strips, Electrically Boogalooing, Prognostication, Motivational Speaking, "BRANDING," Etymology& Spelling Bees. PDX via PHILA via MPLS<3 /////+++++//////<3
Allister Lee operates Studio B.I.B., a Toronto-based creative hub that specializes in consultation, branding, and graphic work for niche retail operations and apparel brands. He concurrently dedicates his time and craft to exploring and documenting his interests in Black Markers and international Chinatown districts.
Berto Legendary H is an independent designer and artist based in Portland, OR. After attending Parsons School of Design in New York City he decided to move to Los Angeles where he has shown in galleries and build his network of clientele. He has been featured in Computer Arts Projects and numerous blogs about his art and typography. Berto also does mens fashion design and has been acclaimed by Vivienne Westwood and many others. He is known for setting trends, progressive designs and mixing of fabric textures.
Dan Gluibizzi makes figurative watercolors with posted images culled from a wide range of websites, online forums and blogs, especially Tumblr. The watercolors are traces of these searches through our endlessly increasing and churning mediated picture world. Dan Gluibizzi was raised in Pennsylvania and lives in Portland, Oregon. His work has been exhibited in Baltimore, Los Angeles, New York and in Portland at Ampersand Gallery and Fine Books.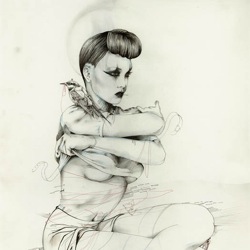 Born in Dartford, Kent, in 1970, as a child Bray would apparently draw images of space travel, where he would depict himself and his friends visiting other Planets and Universes. As he grew older he began to explore a dark, egotistical fantasy world, which is still apparent in the work he makes today being influenced and inspired by a wide range of artists: from Allen Jones, comic artist Eric Stanton, erotic photography by Helmut Newton and Araki and paintings by Gustav Klimt, and Alberto Vargas. Using basic drawing tools, such as pens, pencils and paper, Bray creates delicate and time-consuming drawings which explore emotion, utopia and a world of fantasy through his subject matter of the beautiful and erotic, but the unnatainable female form. His compelling works reveal his lifetime love of drawing and a very active imagination taking the viewer into his dark, amative world of fantasy. David has also had a successful commercial career since graduating in 1992 from Central St. Martins, in London with a degree in Graphic Design, with work commissioned by clients such as Harvey Nichols, H&M, Canon, Vodafone, BBC Television, Nokia, Puma, Virgin, Sony, Charles Worthington and magazines Elle, Flaunt, The Sunday Times and Time Out.
Dennis "Bagger43" Brown, born in the Philippines and raised in Japan, now resides in San Francisco. He draws inspiration from other artists & people, photography, design, fashion, 80's cartoons, Japanese culture, materials, music, and irony.
Jessica Raddatz, aka. "JesseHectic", grew up in the Pacific NW and currently lives and works in Portland. The "Rambo Tambo" series was born out of a project meant to reconnect with peoplethrough the dying art form of the hand written letter. It grew into a movement to start an all girl all tambourine band named "Rambo Tambo." Growing exponentially in size, the band will roguely bomb venues with a flash tambourine mob of women. Look out for a future "surprise" performance in a city near you.
Artwork